Customer interview Ayodeji
Meet Ayodeji from the United Kingdom and his story behind his Sportymaps prints.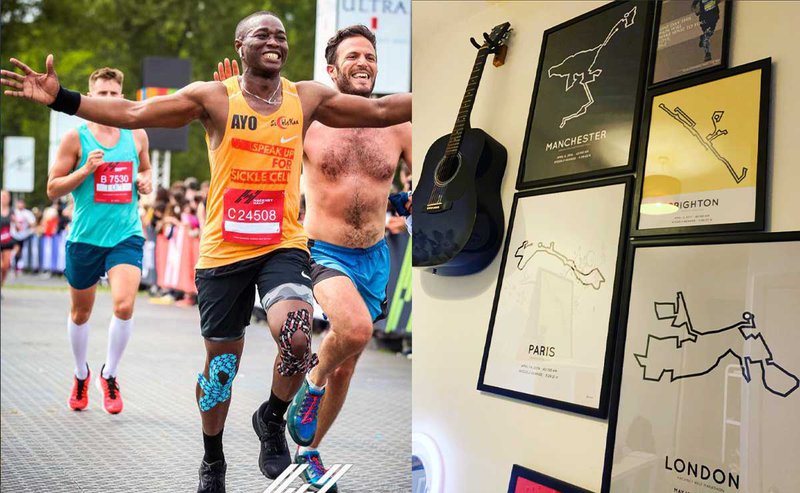 Why do you run?
I first started running simply to lose weight. Being 19 stone it was the "go to" exercise for someone like me, who didn't feel confident at that time to use the gym. I still remember my first run! I bailed half way through & jumped on the bus back home- I thought I was having a heart attack but it was more a stitch. Slowly I got stronger and quickly caught the runners bug. Over time, running significantly improved my physical & mental health.
You have several marathon and half-marathon course posters on your walls. Do you remember which was the first one you've ordered?
Yes, I will always remember my first print as it was my first experience of running the 26.2. Brighton marathon in 2017. Just looking at the print brings back a lot of good & painful memories.
Why did you want to remember your running achievements with Sportymaps?
There are many running memorabilia companies out there but for me Sportymaps really stands out. As an art lover the style of the prints are minimalistic, modern and they go really well with the decor in my home. The personalisation options such as choice of color, name and finish time is a good touch. Most importantly, it's a good way for my guests to fall into my trap and allow me to talk about my running!
Do you have a favorite Sportymaps print and why?
Yes, the Manchester marathon print 2018 is my favorite. It was my first time running a sub 3hr 30 marathon, something I thought was not possible for me. Also the all black print looks pretty dope.
You have run events in different countries, have you trained differently for those foreign marathons?
To be honest not really, I have always trained the same way, I have just increased my mileage over the years. I don't follow a plan but if I did it would be called the 'wing it plan'. I knew potentially I would be running in hot conditions at the Budapest marathon. Luckily the event was in September, so I got to train throughout the summer.
Although at the moment ANY running event would be nice… Are there specific running events you want to participate in in the future? In another country perhaps?
Yes, when we get a bit of normality I would love to experience the New York, Tokyo & Lagos (Nigeria) marathons. Obviously, London but the yearly ballot rejection is starting to affect my ego.
Do you have any tips for people that want to run their first half or full marathon?
Yes, don't be like me!  Follow a plan which suits you. Invest in a good pair of training and racing shoes, hills pay the bills, strength train and stretch!
And don't forget to pray before running the 26.2!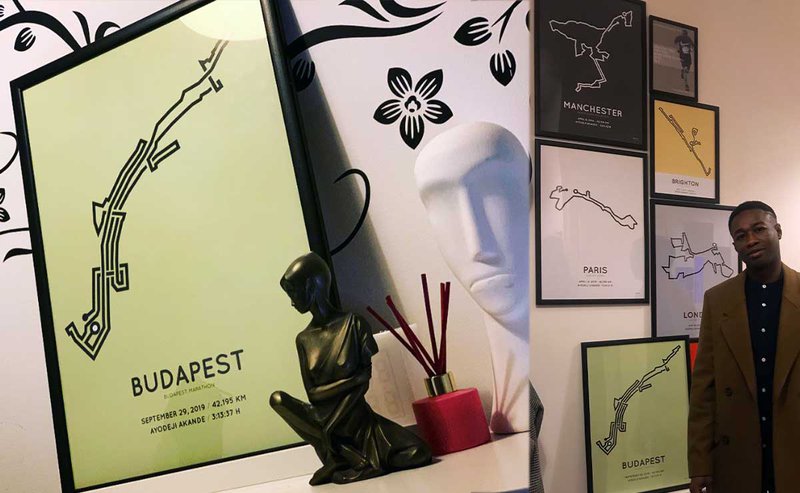 Ayodeji in front of his impressive Sportymaps wall!
---
Follow Ayodeji on Instagram