Sportymaps was started in 2015 by designer Guus van Zeeland. Besides designing Guus also loves to run and to combine these two passions in some way sounded like a logical thing to do. After many ideas and prototypes the minimalist course poster was born. A powerful black (or white) line tracing the route you ran, suffered and eventually conquered. For some it might not be more that just a black line, but for you it is full of memories. A simple but sophisticated product that fits almost any interior and can be made to your liking and personalized with your name and finish time.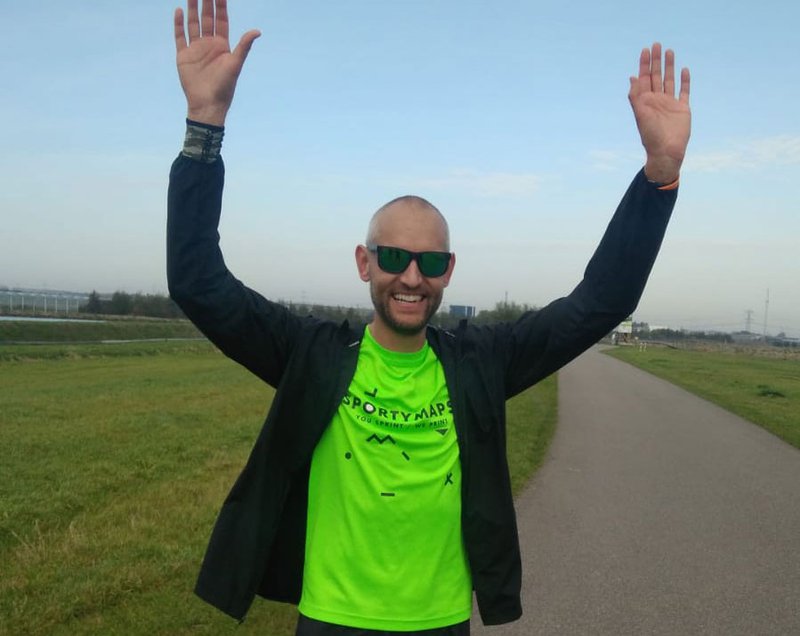 Guus after his first marathon!
Adding more sports
After we created many minimalist course posters of running events around the globe, we also got more and more requests for triathlons. We started creating those too, along with prints of cycling routes and events. At this moment, we also offer hiking route posters and a selection of racetrack prints.
Create your own Sportymaps print
Since 2015 a lot has changed how we run our business. The company has grown and we were able to make small and big steps to offer Sportymaps prints to everyone around the globe.
With our online editor you can create your own Sportymaps print on paper or aluminum, using our building blocks. Select an event from our ever-growing database with courses. Personalize your print with a name and finish time. Change texts to your liking. Choose a background color that suits your wall.
After your purchase, the order is sent to our printing partner who distributes the print files to a printing facility closest to the destination of the order. Within a few days, the order is processed and shipped out to the customer. What a difference with packing everything ourselves and shipping it from the Netherlands.

If you need a personal, beautiful way to commemorate sportive achievements for yourself or as a gift, give Sportymaps a try!