Meet Tord from Norway and the story behind his Sportymaps prints.
Interview in Norwegian, English translation further below.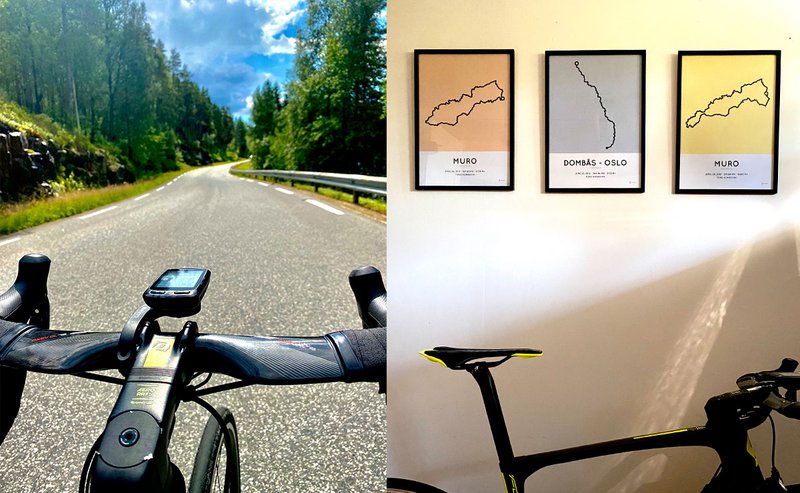 Vi har laget noen Sportymaps sykkelplakater for deg. Kan du fortelle oss mer om det?
Flotte plakater og laget etter mine Strava / Garmin filer, dersom ikke arrangøren hadde dem tilegnelige på sine nettsider, Super service!
Vekker utskriftene noen spesifikke minner?
Jeg tenker tilbake på treningen og selve rittet, gleder meg til fremtiden. Mere trening, resultater og nye ritt.
Har du andre sykkelarrangementer på ønskelisten?
Trondheim-Oslo, ett av verdens eldste og lenges turritt, 568 km i 2022. eller kanskje en Ironman 70,3.
Hva slags sykkel(er) kjører du?
Jeg har flere, min favoritt er Scott Foil 10, med Di2, ønsker meg en Canyon Aeroad CF SLF, med disc bremser.
Deltar du i andre idretter enn sykling? Jeg kan tenke meg at det i Norge ikke er mulig å sykle ute hele året.
Jeg har deltatt i mange idretter, alpint for lenge siden, men ligger mitt hjerte nære, eller går det i sykkel og løp, mulig en triatlon i horisonten.
Har du noen tips til folk som kunne tenke seg å gjøre et sykkelarrangement i utlandet?
Beregne noen dager før, og kanskje etter rittet. Gjøre det til en mini-ferie, med ett ritt midt i.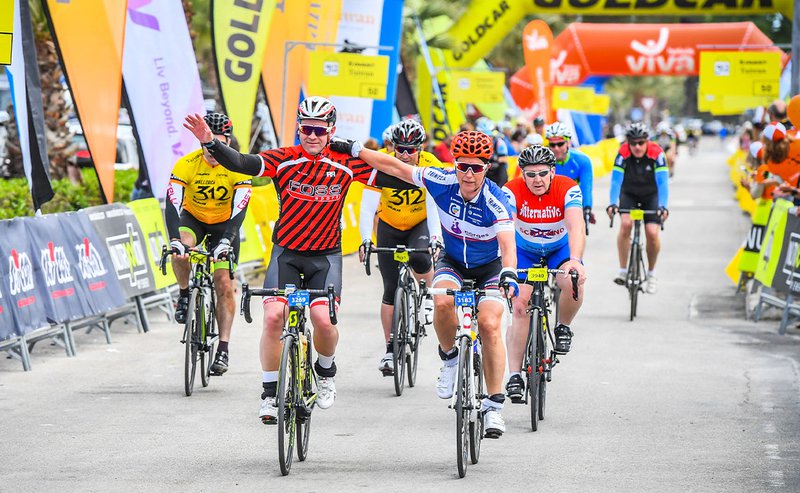 Tord finishing the M312 at Mallorca.
English version
We made some Sportymaps cycling posters for you. Can you tell us a bit more about them?
Great posters and made after my Strava / Garmin files, because the organizer did not have them available on their website. Super service!
Do the prints evoke any specific memories for you?
I think back on the training and the race itself, I look forward to the future. More training, results and new races.
Do you have any other cycling events on your wish list?
Trondheim-Oslo, one of the world's oldest and longest touring races, 568 km in 2022. Or maybe an Ironman 70.3.
What kind of bike(s) do you ride?
I have several, my favorite is Scott Foil 10. Wishing for a Canyon Aeroad CF SLF with disc brakes.
Do you do any other sports besides cycling? I can imagine that outdoor cycling in Norway is not possible all year round.
Alpine skiing has been close to my heart all my life, long since I have been competing though. Cycling and running, maybe a Triathlon in 2022.
Do you have any tips for people who would like to do a cycling event abroad?
Make a mini-vacation of is, with the race day in the middle. Travel to the site some days ahead, to get everything sorted, and settled in before raceway.