New York City Marathon Print
The Big Apple. The city that never sleeps. New York City! Home of the awesome NYC Marathon.
Have you participated in the New York City Marathon (congrats) and are you looking for a special memento of your achievement? Or do you need that special and personal gift for your runner friend?
Take a look at our high quality course prints.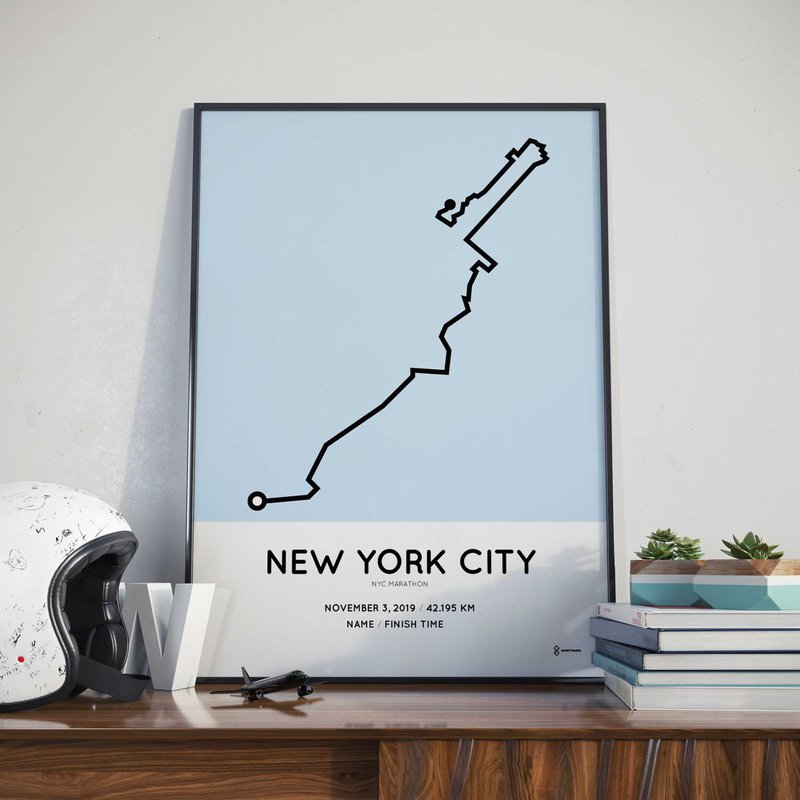 2019 NYC Marathon Sportymaps course paper print
New York City Marathon course print
Our NYC Marathon course posters are digitally printed on high quality matte paper of 200 gsm. We also offer the option to have it printed on 3mm brushed aluminum.
Add your name and finish time to create a unique and personal print.
We offer a Special Edition design based on the work of painter Mondrian's Victory and Broadway Boogie Woogie.
Pick one of the available 8 background colors.
We have several sizes to choose from.
Our posters are printed in 30+ countries and shipped worldwide to you.
Customer Stories
Since 2015 we've created and printed 10.000+ prints for customers all over the world. People from Iceland to New Zealand and Mexico to Estonia are enjoying their Sportymaps marathon course prints. This is what a small selection of them has to say about our marathon course posters:
"…it's a good way for my guests to fall into my trap and allow me to talk about my running!"
~ Ayodeji, United Kingdom
"My Sportymaps motivate me as a reminder of all training runs and races I overcame and conquered.  Reminding me, that I am strong, committed, and capable of doing hard things"
~ Lorraine, Canada
"I'm most proud of the poster from the Seville Marathon where I qualified for the Olympics. That marathon will always be something special for me…"
~ Thijs, Denmark
"All my Sportymaps posters are dear to me, but the most special one has to be that of the Tokyo Marathon"
~ Hedwig, The Netherlands
"…it was clear to me that after this challenge I would reward myself with such an individual and great memento"
~ Michael, Germany
"Before I was going to run the marathon I already knew: that print will be added to my wall!"
~ Marcus, The Netherlands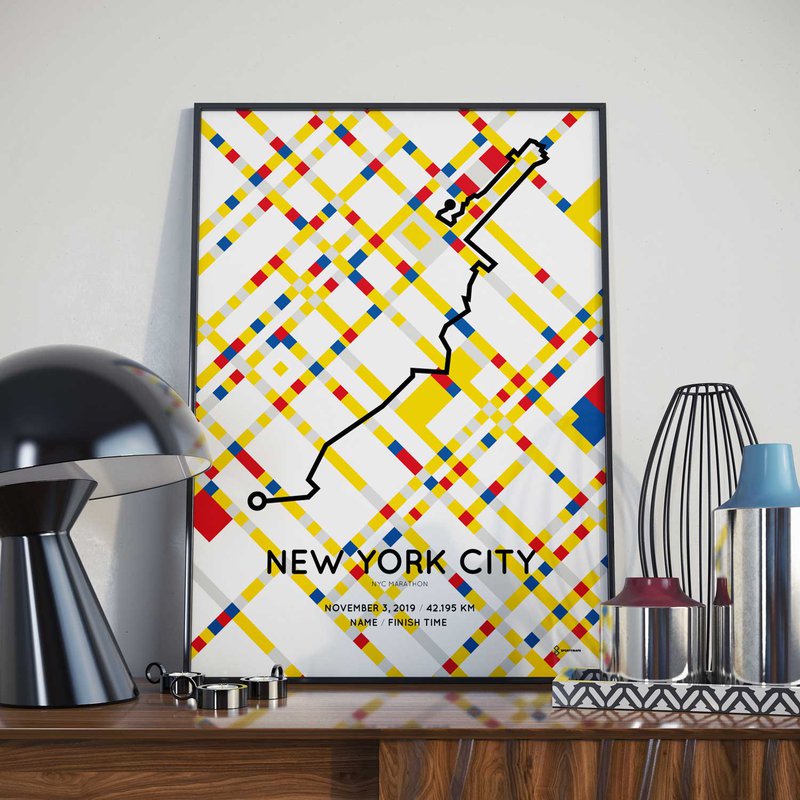 2021 NYC Marathon Special Edition Sportymaps poster
Colors & Sizes
Choose your NYC Marathon course print from 8 colors or our Special Edition design. Our prints come in 7 different size options.
The price depends on the size of the poster:
€22,95 for our smallest course poster.
€46,95 for the largest print and a few in between.
Have a closer look at the prices on the product page in the webshop.
Shipping costs are calculated at checkout.
Shipping & Delivery
All our prints are made to order. This means after you have placed your order, we'll double check it and send the specific print files for your order to our printing partner.
Our printing partner has printshops all over the world and will route the print files to the shop closest to the end destination. There the poster will be printed, packed and shipped.
Processing and printing your order will take about 5 workdays. Shipping is a bit variable depending on the location, but is about 2-5 working days.